The simplest solution


to FMD compliance

VeriLite provides an easy online solution enabling you to meet the regulatory requirements of the FMD.
Since 9th February 2019, the Falsified Medicine Directive came into force. Whether you are a wholesaler responsible for distribution, a pharmacist or a doctor responsible for dispensing medicines, VeriLite provides an easy solution enabling you to meet the regulatory requirements of FMD.
Here's how it works
Connect your own barcode reader to your PC or Tablet

Use your favourite browser to connect automatically to your National Medicines Verification System

Start to use VeriLite to perform all the operations necessary to meet the legal requirements of the FMD
VeriLite is designed to work with the widest possible selection of scanners available today.
VeriLite enables you to:
Verify packs

Dispense packs

Update a pack's status e.g. destroyed, sample, free sample*, stolen*, locked*

Reactivate a pack if required

Mark packs as Exported if they have been sold outside the EU
*Certain actions are only applicable to wholesalers
Operating modes to suite every user and situation
VeriLite accepts product scans in a variety of different entry modes to allow you to tailor your processes with freedom, including off-line and multiple entry modes.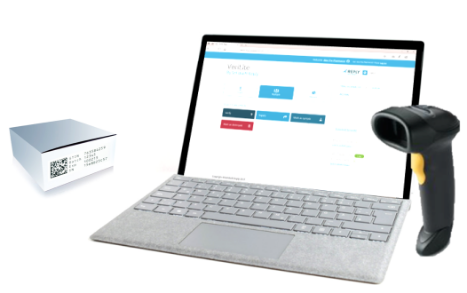 Comprehensive reporting
Reporting is tailored to the user and can be exported for easy integration with other products. This includes the official designated wholesaler list for each product to enable you to manage your supplier risk obligation, and a downloadable product catalogue for products in your National System.
Falsified Medicine Alerts
Should you ever be unlucky enough to come across a potential falsified medicine, VeriLite will alert you. A unique alert ID code will be produced, which you can attach to the falsified pack, allowing it to be returned.
Variable Entry Modes
VeriLite accepts product scans whilst working in a variety of different modes, allowing you to tailor your processes with freedom.
Safe Mode

Scan a pack and review its current status, before selecting an appropriate action.

Single Mode

Having selected an action, every pack scanned will cause the action to be executed in real time.

Multiple Mode

Packs can be scanned to create a list. Lists can then be used asynchronous processing.

Manual Entry Mode

Allows pack details to be entered and processed even without an attached barcode scanner.

Offline Mode

Packs can be scanned and saved even when you are disconnected from the internet.

Future proofed with no installation
VeriLite requires no installation as it is delivered from the Microsoft Azure Cloud to your local browser. As such VeriLite will overtime evolve to take advantage of technology advancements and to ensure that it remains completely in line with the FMD.
About Solidsoft Reply
VeriLite has been built from the ground up to meet the needs of the FMD by Solidsoft Reply. Reply are the only software engineering company to have built the European Hub, National Blueprint systems and VeriLite; the complete component set for a fully functioning European Medicines Verification System (EMVS).
CONTACT US: To get in touch or learn more about verilite email us at verilite@reply.com

Accreditation
Solidsoft Reply's EMVS components are engineered strictly in accordance to our GAMP5 aligned Quality Management System, allowing us to produce validated systems for the pharmaceutical industry.

This is to certify that VeriLite has been assessed by GS1 UK and has been found to be capable of supporting applicable GS1 standards.